Tag: exploit dev
"Georgia, Georgia…" The tune "Georgia on My Mind" was spinning through my head when I was given the chance to review "Penetration Testing: A Hands-On Introduction to Hacking," a book by Georgia Weidman from No Starch Press. Having watched some of her conference presentations online and knowing the work she's put into the Smartphone Pentest Framework (SPF), I've been looking forward to the opportunity to dive into the book for a while now, and her enthusiasm and efforts made it a worthwhile wait.   Amazon's book description includes the following:
"In Penetration Testing, security expert, researcher, and trainer Georgia Weidman introduces you to the core skills and techniques that every pentester needs. Using a virtual machine-based lab that includes Kali Linux and vulnerable operating systems, you'll run through a series of practical lessons with tools like Wireshark, Nmap, and Burp Suite. As you follow along with the labs and launch attacks, you'll experience the key stages of an actual assessment – including information gathering, finding exploitable vulnerabilities, gaining access to systems, post exploitation, and more."
So with the new year upon us, this gives everyone the opportunity to dive into a topic whether it be for advancing your current career, jumping into a new one or simply to amaze your friends and families. Hacking news both good and bad are everywhere these days. It's time for you to get into the game. Find out how Ms. Weidman can help.
In terms of training, Offensive Security is best known for their Pentesting with BackTrack/Kali (PWK) and Cracking the Perimeter (CTP) courses. While PWK and CTP have reputations for being intense, grueling courses that require months of sacrifice and dedication, the word "Advanced" is conspicuously absent from their titles. This fact alone should emphasize where Offensive Security AWE falls in relation to these other courses.
After registering for the course, the student must complete a reversing challenge to ensure he or she has a basic understanding of the foundation concepts that are required to digest the course content. The material in the course is far more advanced than the challenge, and successfully completing the challenge is no guarantee that the student is fully prepared for the course. However, if the student is unable to complete this challenge, or has extreme difficulty with it, there is a significant gap in requisite knowledge, and it is recommended to pursue the course at a later date after additional preparation. Did I mention "Advanced?"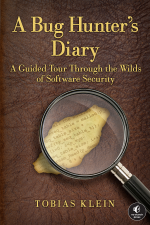 So often as security professionals we hear how bug hunters both black hat and white hat find vulnerabilities and release them to the vendor or use them for monetary gain. We wonder how they actually went about finding these vulnerabilities and what hurdles they had to jump to find them. "A Bug Hunter's Diary: A Guided Tour Through the Wilds of Software Security" by Tobias Klein focuses on helping different levels of security professionals understand the approaches used to uncover vulnerabilities, testing the vulnerabilities found and finally reporting on those vulnerabilities. It is short and to the point and offers nothing but valuable content with little to no fluff content.
The book was written as though Tobias was writing in a journal as he was progressing through his research of a particular application. Each chapter is a separate journal entry focused on a single application into which he dug and eventually found a vulnerability. He then determined if it was exploitable and in turn released it to either the vendor or to a vulnerability broker. This is a fascinating look into the heart of a sector of the security economy not previously exposed to a wider audience.
After the break, look for a link to a free download of Chapter 2: "Back to the 90s"